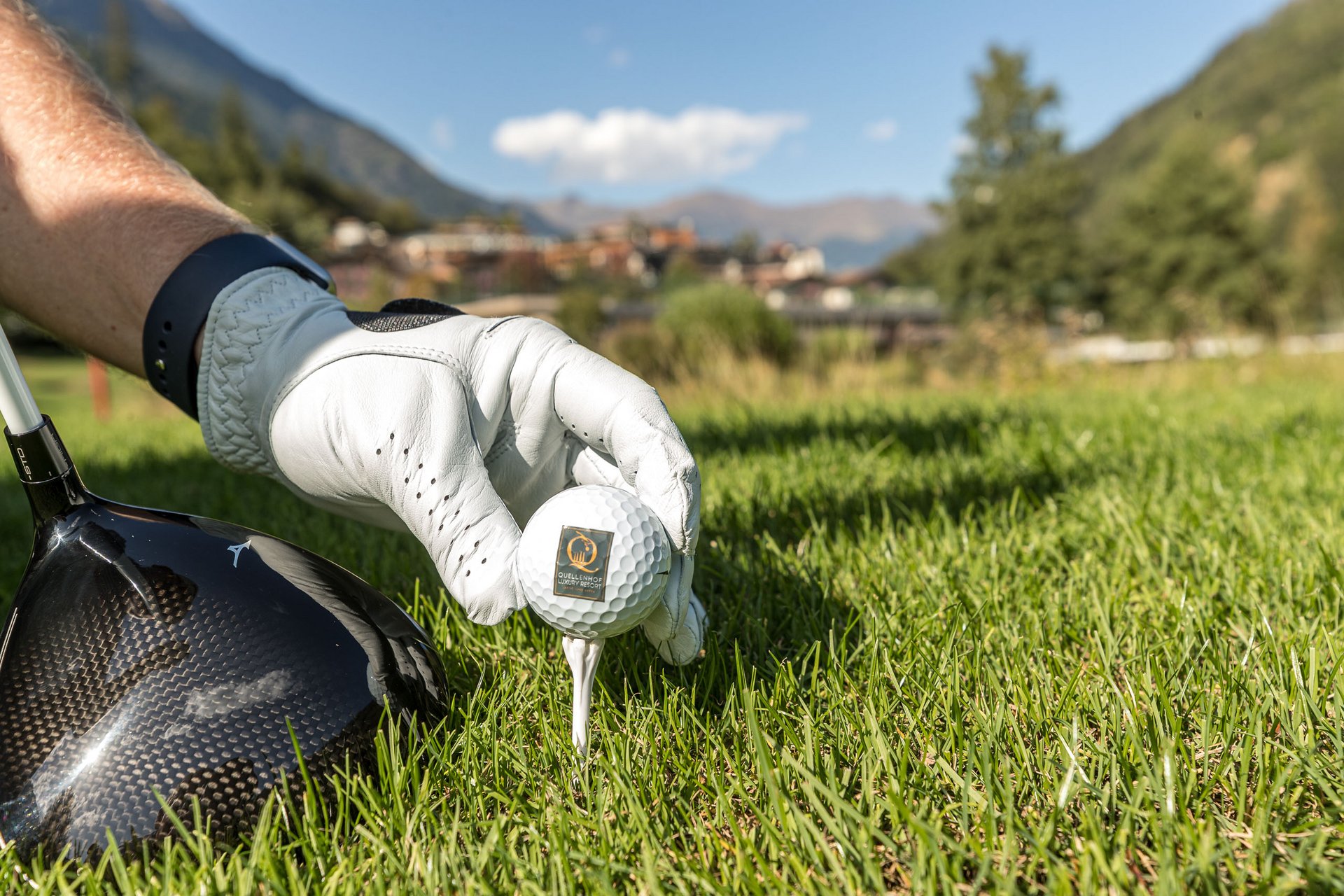 Birdies and eagles at the golf hotel in South Tyrol with 5 stars
A hole-in-one golf holiday
The wind gently blows across the meticulously manicured fairway, carrying with it the lingering aroma of freshly cut grass. The sun makes the course shine in a luminous green hue. From the treetops, sparrows and blackbirds observe, their lively chirping adding music to the scene. As the breeze settles, the moment feels right for the perfect tee-off. Silence envelops you, your focus solely on that tee shot. Discover how the scene plays out when you spend an exclusive golf holiday at our luxurious golf hotel in South Tyrol with 5 stars.
A golf resort in South Tyrol full of highlights
The hotel's own four-hole golf course and the weekly golf excursions and tournaments organised at our golf hotel in South Tyrol with 5 stars promise pure golfing fun in an idyllic landscape. It is no wonder that golf professionals such as Martin Kaymer and Marcel Siem have graced our greens, honing their technique at our golf hotel near Meran. If you're eager to refine your swing, posture, or overall technique, our seasoned golf expert, Gordon Hume, is at your service. Born in Scotland, Gordon has been a golf professional for 34 years, starting his career in 1986 at the tender age of 17. Under the guidance of renowned professional Robert Collinson, he participated in multiple pro tournaments before transitioning into a coaching role in 1993. Afterwards, he coached the youth golfers in South Tyrol for several years, and now he is a trainer at our golf hotel in South Tyrol with 5 stars. Every lesson at our adults-only hotel in South Tyrol uses the Scope video system, which helps you analyse your tee shots and improve your handicap. In addition, a driving range with 20 teeing grounds, ten of which are covered, as well as a putting, chipping, and pitching green, await you at the Quellenhof.
Tailor-made lessons at the golf hotel in South Tyrol with 5 stars
Our comprehensive selection of courses includes lessons for every level and requirement – private or in a group. To best accommodate your preferences, we kindly request that you book your golf course in advance and complete the relevant form upon your arrival. Please note that the prices quoted are only valid for guests of our golf hotel in South Tyrol with 5 stars.
After a long game on the fairways and greens, unwind in the relaxation areas of our 5-star wellness hotel in South Tyrol and treat yourself to a massage to loosen your weary muscles.