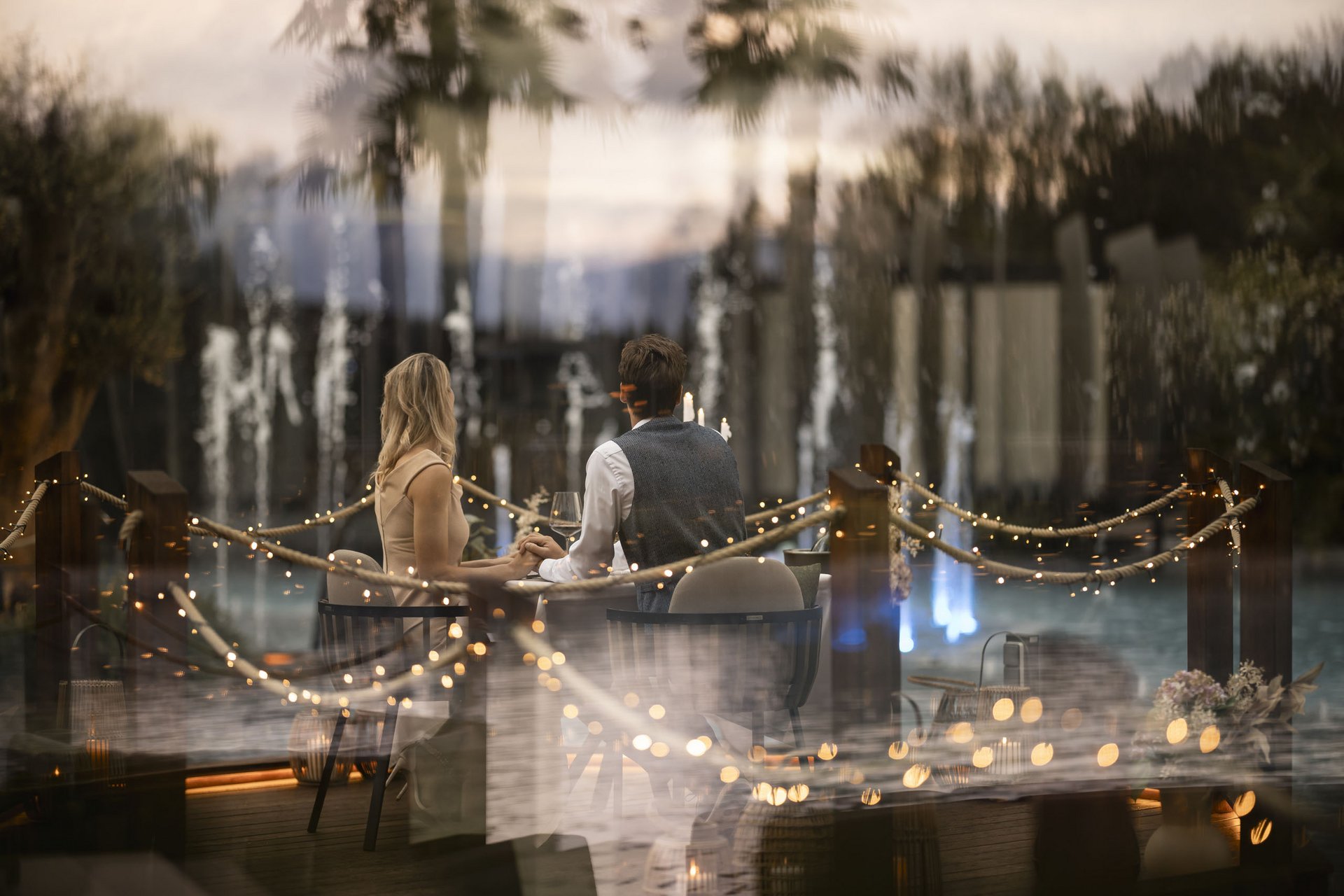 Your romantic and exclusive honeymoon in South Tyrol
Celebrate love in style
Immerse yourselves in blissful togetherness, a time for just the two of you. A deep serenity envelops you as you walk hand in hand through our luxurious relaxation areas, leading to the indoor pool and then through the connecting door to the outdoor infinity pool. There, you can recline on a lounger by the lagoon and savour the idyllic atmosphere in the middle of pristine Val Passiria/Passeiertal. This is how wonderful and special your honeymoon in South Tyrol could be. The Quellenhof See Lodge extends a warm welcome to guests aged 14 and above, a concept designed to provide you with peace and the luxury of time: time in the luxurious adults-only hotel in South Tyrol, time for exclusive well-being.
Couples specials for your honeymoon in South Tyrol
Our 5-star hotel in South Tyrol is the place to let your love flourish. Make the most of every moment of togetherness during your honeymoon in South Tyrol. Begin your new life together in an atmosphere of peace, enjoyment, and serenity. For this purpose, our 800m² spa area, 4,500m² bathing lake with a diameter of 105 metres, two restaurants with exquisite gourmet experiences, and 26 luxurious suites and villas [LINK Suites & villas] are at your disposal. Irresistible packages and services are available to enrich your exclusive honeymoon holiday. How about a little time-out in the Private Spa Suite, a floating breakfast in the whirlpool, a romantic candlelight dinner on the jetty, or another surprise? Enjoy a gourmet picnic in picturesque Val Passiria/Passeiertal, and savour those butterflies as you lock eyes with your sweetheart.
Spend your honeymoon in South Tyrol, retreat from the world, and experience the magic of new beginnings in the villa or suite of your choice. The warm, rich colours of the furnishings create a homely atmosphere, and the high-quality materials add an exclusive touch. With 21 suites, one rooftop villa, and four unique Lake Villas, the Quellenhof See Lodge is one of the smallest 5-star hotels in South Tyrol and the perfect hideaway for your honeymoon in South Tyrol. The most romantic highlight of the villas? The hammock hanging over the bathing lake with a privacy screen for absolute privacy. Settle in, and let the butterflies in your stomach take off.