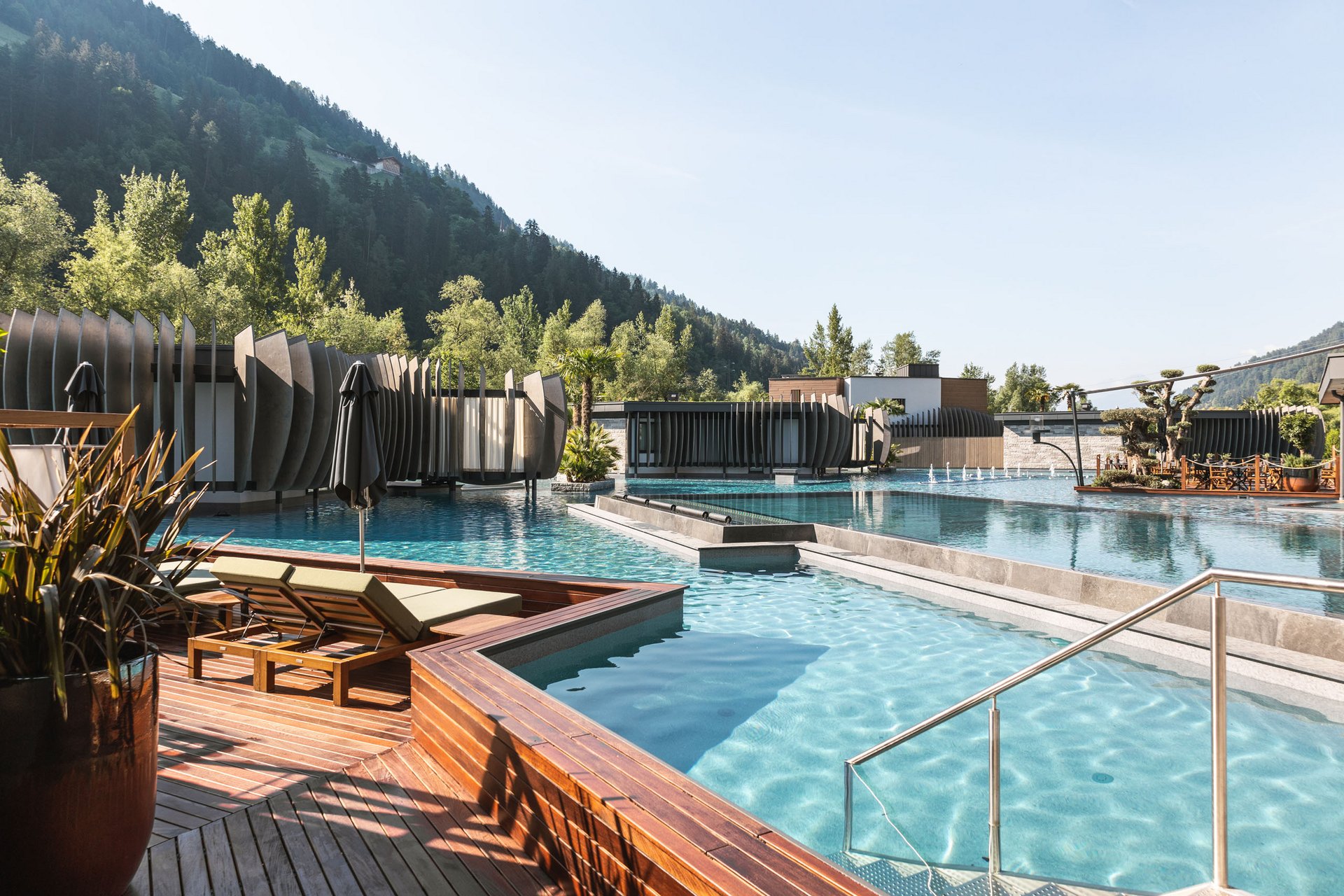 Protecting the environment at the See Lodge
A pledge for future generations
Private hydroelectric power station
Our private hydroelectric power plant generates sustainable, clean, and renewable green electricity, providing low-cost power for generations to come.
Combined heat and power plant
We have a combined heat and power (CHP) plant that converts energy sources such as gas, oil, and wood into green electricity and heat. It produces approximately 120kW per hour, equivalent to the annual electricity needs of around 40 households of four people.
Thanks to our photovoltaic system, we use solar energy to heat our pools in an environmentally friendly way.
We mainly use rainwater to water the garden. Our rainwater collection system has enabled us to reduce our water consumption by up to 50%.
All our showers and taps are equipped with water-saving aerators or flow regulators. This has enabled us to drastically reduce water usage while maintaining comfort.
To minimise our plastic use, we purchase detergents and cleaning agents in bulk. A modern dosing system is used to measure the right amount of detergent.
Our hotel's entire lighting system (indoor and outdoor) is equipped with state-of-the-art LED lights, which are controlled by various sensors and optimisation software to keep energy consumption as low as possible. In addition, the service life of LED lights is around 25 times longer than that of other light sources. Defective LED lights are not sent to landfill but recycled.
Intelligent energy optimisation system
Our air conditioning and ventilation systems, food refrigeration units, kitchen appliances, washing machines, dryers, and sauna ovens are all linked to an intelligent energy optimisation system that ensures that all appliances and equipment operate as energy-efficiently as possible at all times.
Thanks to intelligent room control, we prevent overheating or overcooling of the guest rooms and public areas. Our heating systems generate heat from the ventilation system and heating elements.
Valve convectors and cooling units
Valve convectors and cooling units are serviced and cleaned several times a year to guarantee efficient operation.
Minibar with time programming
The minibars in our rooms are deactivated by time programming at certain times (e.g., at night) to reduce electricity consumption.
Regional and seasonal products
We prioritise the use of regional and seasonal ingredients in our guest meals, minimising transport distances and supporting local suppliers.
Our bar team exclusively uses biodegradable straws for our cocktails and other drinks.
Quellenhof electric shuttle
Our Quellenhof shuttles and cars are mostly electric and are charged directly at the hotel.
Charging station for electric vehicles
We provide our guests with charging stations for electric vehicles and have e-bikes, e-motorcycles, and electric vehicles for hire.
Certified organic natural products
At the BalanceSPA, we use certified organic natural products. In addition, all bathrooms exclusively feature products from the "Earth first zero waste natura body care" line.
Climate protection concerns us all. Therefore, we ask our guests to try to help us reduce the amount of laundry by being mindful of their usage.
We have implemented a comprehensive waste separation system, and our staff is trained in proper disposal and recycling practices.
Our Digital Concierge replaces the printed Guest Directory in the rooms. All information about our region, external partners (activities), and the weekly programme (excursions, Body & Mind) can be accessed at any time via any device.