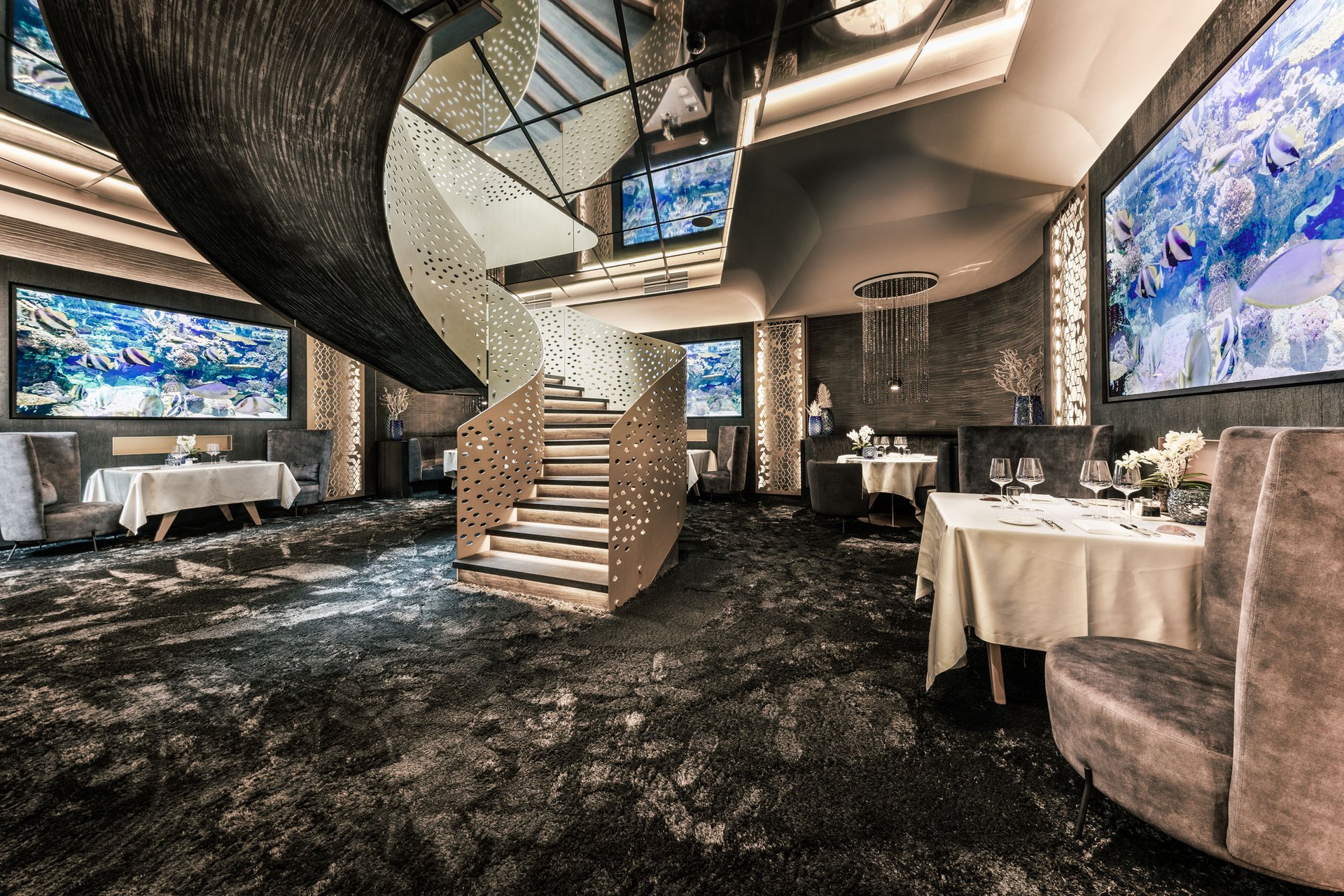 Exquisite and unique: the underwater restaurant near Meran
Dive into the gourmet world
A magnificent golden staircase leads from the restaurant to the underwater world of the Quellenhof See Lodge. The speciality restaurant at our 5-star hotel in South Tyrol captivates with its modern design, noble furnishings, exquisite decorations, and muted colours that convey serenity. Dive into a dazzling deep-sea world in our underwater restaurant near Meran. The large multi-colour displays that adorn the walls of the gourmet restaurant with images of colourful coral reefs and impressive sea creatures create the perfect underwater atmosphere.
Fine dining in the underwater restaurant near Meran
As unique as the concept of the underwater restaurant near Meran are the exquisite fish dishes by chef Fabian Pazeller. Look forward to oysters, scampi, scallops, caviar, lobster, fine freshwater and saltwater fish, and a variety of other delicacies. High-quality regional products, as well as local and exotic fish and shellfish, form the ingredients of these gourmet creations. Chef de rang and sommelier Elias Plunger knows the right wine for every dish and will be happy to advise you on our impressive selection of fine wines. Immerse yourself in the magical aura of the underwater restaurant near Meran and enjoy every bite of the delicacies, which are true works of art, while dining underwater.
The most important information about our gourmet restaurant
Opening times and information
The menu of the underwater restaurant costs €145.00 per person for external guests. Guests of the Quellenhof See Lodge pay a surplus of €125.00 on their half-board price to dine underwater.
Kindly note that in the event of last-minute cancellation, 80% of the menu price will be charged, and 100% in case of a same-day cancellation.